Marketing Agency Responsive WordPress Theme Review
Summary of Marketing Agency Responsive WordPress Theme Review
This is definitely a slick looking theme for someone who likes black and white tone. It is designed for a marketing firm but it can be re-purposed for gallery businesses. We identified few heading tags issue and overall the theme scored 5 points out of 10.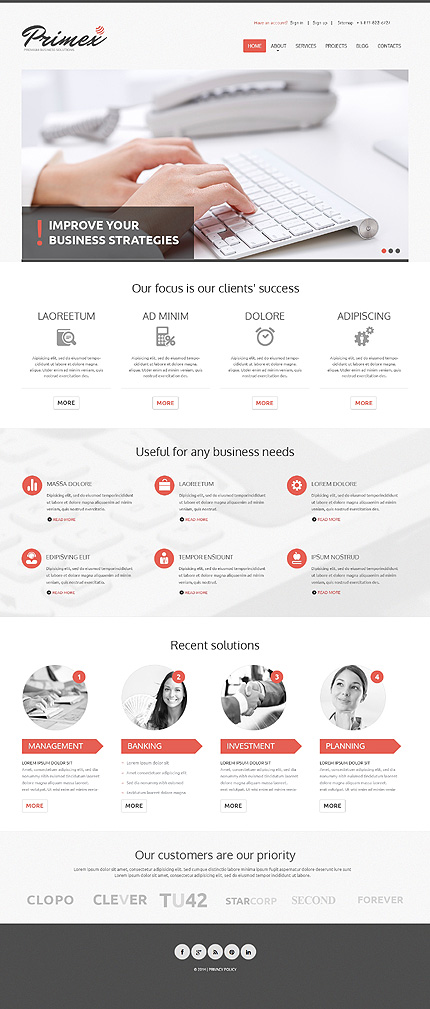 Sponser Ads
| | |
| --- | --- |
| Items Checked | Score |
| Responsive Design | 1 |
| Social Media Buttons | 1 |
| Social Media Buttons Visibility | 0 |
| Social Media Buttons On All Pages | 1 |
| Good use of Heading tags on home page? | 0 |
| Multiple H1 tags issue? | 0 |
| Image "Alt" Tag | 0 |
| Good use of 404 Error Page | 0 |
| Footer Copy Right Notice | 1 |
| Footer Link Back To The Template Creator | 1 |
| Total | 5 |
1) Is It A Responsive Design?
Yes it is
2) Does the WordPress Template Contain Social Media Buttons?
Yes it does
3) How Is The Visibility Of The Social Media Buttons?
It is located at the bottom of the page through out the site. It is not a very visible location.
4) Are The Social Media Buttons Appearing On All Pages?
Yes they do.
5) Good Use Of Heading Tags?
We found some problems on the home page as stated in section 6) We did not find problems in other sections of the site.
6) Multiple H1 tags?
Yes multiple H1 tags were found on the home page. H1 tags are used for exclamation mark "!"
7) Do Embedded Images Have an "Alt" Tag? 
Most of the images do but  there are few we found did not have them.
 8) Is The 404 Error Page Designed To Retain Users
Not really. It tells users to use the search box and the text does not clearly state the search box is for searching the site content. A Little confusing.
 9) Footer Copyright Notice
Yes it is there.
10) Is There A Outbound Link To The Theme Creator In The Footer Area?
Nope. So you don't need to worry about disabeling it or removing it!
Latest posts by Digital Ready Marketing
(see all)